Go back
to local info
Featured Local Information
A video about the new Tech Flat, which has a range of assistive technology available.
---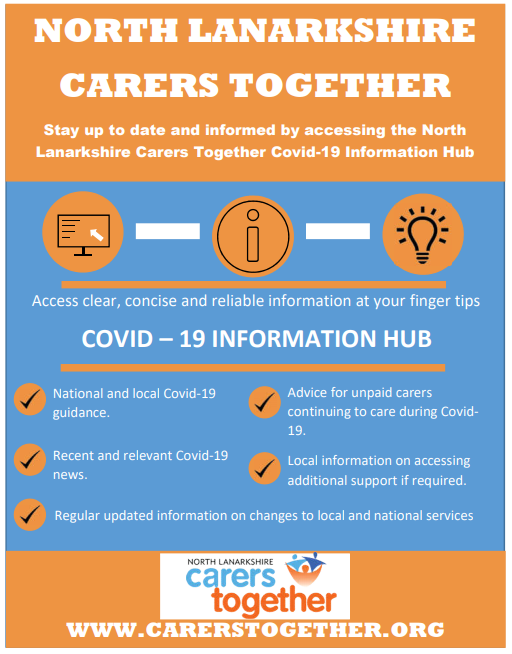 ---
Virtual & telephone support service, along with cancer packs service, available for people affected by cancer in Lanarkshire.
"We're still here for you"
Lanarkshire Macmillan information
---
Alzheimer Scotland
Alzheimer Scotland is Scotland's national dementia charity. Their aim is to make sure nobody faces dementia alone. They provide information and support to people who are worried about their memory and for everyone living with dementia and their families.
Alzheimer Scotland - What's Online? PDF
Alzheimer Scotland - Action on Rights PDF
---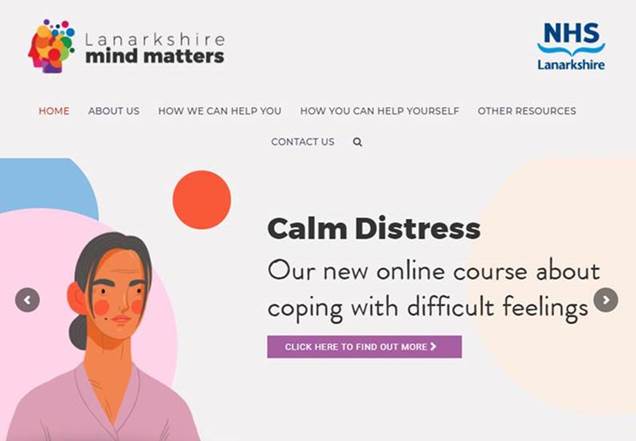 ---
Your guide to parks, green spaces and nature.
---
NHS Lanarkshire - "Practical Tips to help my memory" booklet
If you have a problem with your memory it can have an impact on your ability to do everyday tasks. If you follow helpful habits and routines this may minimise the impact of your memory impairment. This booklet is designed by Occupational Therapists to illustrate some practical strategies that you might find helpful.
Practical Tips to help my memory PDF
---
What do you want for tea? booklet
Quick and easy recipes to support you to eat well at home.
---
Food Train in Lanarkshire
Food Train makes hundreds of grocery deliveries every week, ensuring those most in need have access to fresh groceries.
A team of local volunteers help with household jobs, deliver books through their library service.
They also provide friendly social contact and meals through their Meal Makers and befriending services.
Sharing food and friendship with an older neighbour PDF
Food Train Connects leaflet PDF
---
Aura in North Lanarkshire
Aura is a new service, supporting people affected by domestic abuse across North Lanarkshire.
---
This section provides a range of local services and well-being information for you to find advice or seek further assistance to support your health.
---
Take our quiz to see if you are a carer
---
The NL Locator provides details on a variety of different activities such as fitness classes, arts and crafts, social groups, etc. You can view activities in your local area.
Carers - Local information
Showing 7 of 7 results
Community Liaison Service
The Community Liaison service supports hospital discharge in North Lanarkshire and offers patients, families and carers advice on possible community supports available to them. The information and advice they provide is tailored to you, your family and carer's individual needs and interests. This includes social opportunities, leisure and physical activities and future planning. To find out more, please see the attached document.
---
Associated materials
Help if you need to physically assist or lift the person you care for
Lanarkshire Carers Centre can provide manual handling training if you are required to physically assist or lift the person you care for, whether this is with or without equipment. It is important that you make sure you are looking after your own well being as well as that of the person you care for.
Contact Information:
Organisation: Lanarkshire Carers Centre
Website: www.prtlcc.org.uk
Phone: 01236 755550
Lanarkshire Deaf Services
Lanarkshire Deaf Services provide services to the Deaf Community of Lanarkshire. The services provided include a Drop In Centre and a Sign Language Interpreting agency.
Their aim is to remove the barriers to communication for Deaf People throughout Lanarkshire. You can contact them using the details provided.
Contact Information:
Organisation: Lanarkshire Deaf Services
Address: Unit 40 Fountain Business Centre, Ellis Street, Coatbridge, ML5 3AA (Opening hours: Mon-Fri 10am-4pm)
Website: www.deafserviceslanarkshire.co.uk
Email: admin@deafserviceslanarkshire.co.uk
Phone: 01236 604808
North Lanarkshire Disability Forum
The NL Disability forum is run by Laura and Bryony. They offer a service to people whose needs cannot be met by statutory services, or who are not yet eligible for a Individual Budget (money available to someone who needs support).
The forum helps keep people informed and increases their knowledge and understanding of the different options available to them.
To find out more, please see the attached document.

---
Associated materials
Well-informed Mental Health
Well-informed provides a relaxed and informal resource for people who are enquiring about mental health and/or well-being issues at a local level. The resource is for anyone living/working in the North Lanarkshire area and can be accessed via the freephone information line, face-to-face, e-mail, post, and at outreach stands in libraries, health centres and hospitals across North Lanarkshire.
The service enables people to make informed choices in their treatment and care by guiding them to resources that may be relevant to their enquiry as well as the factors influencing positive mental health and well-being.
Contact Information:
Organisation: Well-Informed
Address: 21 A721, Motherwell, ML1 1RT (Opening Hours: Mon-Fri 9am-5pm)
Website: www.elament.org.uk/finding-a-service/well-informed
Email: well-informed@samh.org.uk
Freephone: 0800 073 0918
NHS24 (Urgent out of hours assistance): 111
You can also find contacts for a range of different organisations on the 'Get Help Now' section of the Elament website, visit: Get Help Now
Young Carer Grant
The Young Carer Grant is a new yearly cash payment of £300 for 16-18 year old carers who meet the required criteria. People can apply for the grant online or over the phone and are able to spend the money as they choose. For more information on the grant and to apply, please see the attached document.
---
Associated materials
Your Voice Advocacy Service
Your Voice is an advocacy service for children and young people, to enable them to make informed choices and to make their views and wishes known.
Your Voice provide support for young people up to 19+ years old with mental and physical difficulties, or up to 25+ years old for those who are involved in caring and also children in child protection. Use the following details to get in touch and find out what support is available to help your own personal situation.
Contact Information:
Organisation: Your Voice
Email: info@urvz.org
Phone: 01236 700108