Go back
to local info
Featured Local Information
A video about the new Tech Flat, which has a range of assistive technology available.
---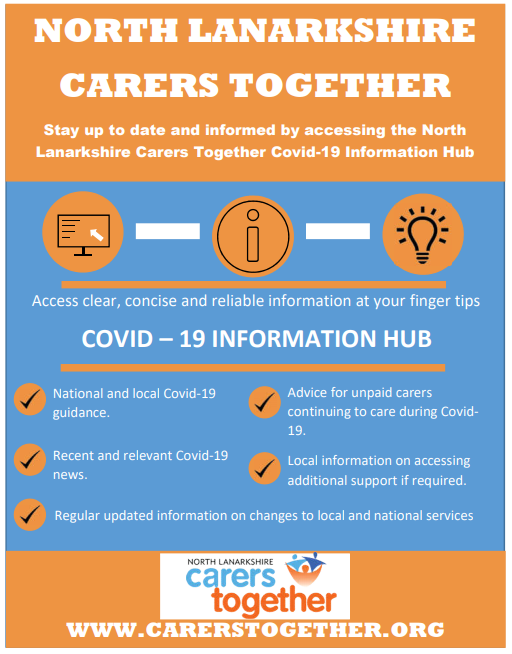 ---
Virtual & telephone support service, along with cancer packs service, available for people affected by cancer in Lanarkshire.
"We're still here for you"
Lanarkshire Macmillan information
---
Alzheimer Scotland
Alzheimer Scotland is Scotland's national dementia charity. Their aim is to make sure nobody faces dementia alone. They provide information and support to people who are worried about their memory and for everyone living with dementia and their families.
Alzheimer Scotland - What's Online? PDF
Alzheimer Scotland - Action on Rights PDF
---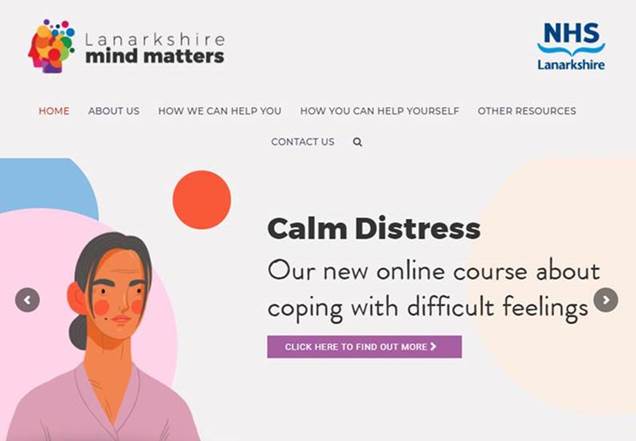 ---
Your guide to parks, green spaces and nature.
---
NHS Lanarkshire - "Practical Tips to help my memory" booklet
If you have a problem with your memory it can have an impact on your ability to do everyday tasks. If you follow helpful habits and routines this may minimise the impact of your memory impairment. This booklet is designed by Occupational Therapists to illustrate some practical strategies that you might find helpful.
Practical Tips to help my memory PDF
---
What do you want for tea? booklet
Quick and easy recipes to support you to eat well at home.
---
Food Train in Lanarkshire
Food Train makes hundreds of grocery deliveries every week, ensuring those most in need have access to fresh groceries.
A team of local volunteers help with household jobs, deliver books through their library service.
They also provide friendly social contact and meals through their Meal Makers and befriending services.
Sharing food and friendship with an older neighbour PDF
Food Train Connects leaflet PDF
---
Aura in North Lanarkshire
Aura is a new service, supporting people affected by domestic abuse across North Lanarkshire.
---
This section provides a range of local services and well-being information for you to find advice or seek further assistance to support your health.
---
Take our quiz to see if you are a carer
---
The NL Locator provides details on a variety of different activities such as fitness classes, arts and crafts, social groups, etc. You can view activities in your local area.
Memory - Local information
Showing 10 of 34 results
Alzheimer Scotland
Alzheimer Scotland provides advice and support to people with dementia and their carers.
They provide the following services:
Information
Advice
Support
Carer education
Outreach support
Contact Information:
Organisation: Alzheimer Scotland
Address: 64 Dalziel Street, Motherwell, ML1 1PJ
Email: LanarkshireServices@alzscot.org
Phone: 01698 275300
Cooker safety valve
Please be aware that by fitting the following product it will mean the person has no means of cooking hot food.
SGN manages the network that distributes natural and green gas to 5.9 million homes and businesses across Scotland and the south of England. They also provide the gas emergency service in these areas. They understand that vulnerable customers, such as people with Alzheimer's or autism, need extra safeguarding in place. Statistics show that elderly and people in vulnerable situations are at a much greater risk from gas leaks and fires in their homes. The locking cooker valve helps vulnerable customers retain their independence at home and provides reassurance to family, friends and carers. The simple safety device is fitted to existing gas cooker pipework. When the valve is locked, the gas supply to the cooker is stopped. This eliminates the risk of the cooker being unintentionally turned on or left on, and gives peace of mind to the carer or relative that the cooker can't be used when they leave the house or the room. The carer or relative can easily turn the valve on using the key when the cooker is required, enabling the vulnerable person to continue to use their gas cooker safely.
SGN have so far fitted 187 locking cooker valves in homes across Scotland and the south of England. They work with community safeguarding groups including social services, occupational therapists and emergency services to identify customers who could benefit from the safety device. They've now partnered with the other UK gas distribution networks to offer this free service nationwide. They provide this free service regardless of your gas supplier. You don't need to change energy supplier or inform your supplier of the device.
For more information, please visit the website: https://www.sgn.co.uk/LCV/
'Dementia Research Group'
The Dementia Research Group is one of the UK's centres for clinical research into dementia. It is based at the National Hospital for Neurology and Neurosurgery, which is the lead centre for trialling new drugs to slow the progression of Alzheimer's disease (which causes the majority of dementia).
For further information, please visit their website by following the link: www.ucl.ac.uk/drc/.
Energy Saving Trust Scotland
You can obtain independent energy saving advice from the Energy Saving Trust Scotland. You may also find the Home Energy Efficiency Programme for Scotland (also known as HEEPS) helpful. More information on this can be found on the Energy Saving Trust website under the Home Energy Scotland tab. This is the new Scottish Government initiative to tackle fuel poverty and increase energy efficiency in homes.
Contact Information:
Organisation: Energy Saving Trust Scotland
Website: www.energysavingtrust.org.uk/
Phone: 0800 512 012
Financial support available during the cold weather
For more information on payments and grants to help the over 60s stay warm please visit www.northlanarkshire.gov.uk for more information. Alternatively, you can call your local Social Work.
Groups that support people with Alzheimers Disease or Dementia
Alzheimer's Scotland give advice and support to people with dementia and their carers. The services they provide include: information, advice, support, carer education and outreach support. To find out more, please get in touch by using the following information.
Contact information
Email: LanarkshireServices@alzscot.org
Phone: 01698 275300
Address: Old Town Hall, High Road, Motherwell ML1 3HU
Groups that support people with Mental Health issues
There are various groups throughout North Lanarkshire supporting and giving information on Mental Health issues. Please call 01698 265232 to get exact information
Groups to help with maintaining weight
You have answered that your clothes size has increased in the last 3-6 months. If this has happened without you trying to, and is something that you would like help with you may find that exercising or participating in group activities may help. If you don't feel confident, we have found going with someone you know might help.
North Lanarkshire Council offer the 'passport to leisure' scheme which gives price reductions on sport, leisure and cultural activities.
To find out more you can contact the Learning & Leisure Services using the details below.
Contact Information:
Website: www.northlanarkshire.gov.uk/index.aspx?articleid=27674
Phone: 01236 812595
Help for those who often forget mealtimes
You have answered that you often forget mealtimes, or that you have already eaten. North Lanarkshire operates a meals on wheels service which would ensure meals are provided to you one to four times a week. Menus are varied and can accommodate special dietary requirements.
To find out more about the service you can visit www.northlanarkshire.gov.uk
Alternatively you can contact your local reception services:
Airdrie
Email: AirdRecServices@northlan.gov.uk
Phone: 01236 757000
Bellshill
Email: BellRecServices@northlan.gov.uk
Phone: 01698 346666
Coatbridge
Email: CoatRecServices@northlan.gov.uk
Phone: 01236 622100
Cumbernauld
Email: CumbRecServices@northlan.gov.uk
Phone: 01236 638700
Motherwell
Email: MothRecServices@northlan.gov.uk
Phone: 01698 332100
Shotts
Email: ShottsRecServices@northlan.gov.uk
Phone: 01501 824700
Wishaw
Email: WishRecServices@northlan.gov.uk
Phone: 01698 348200
Help to make your home warmer or more energy efficient
If you are a council tax payer and home owner, and you get either loft or cavity wall insulation from our approved supplier - British Gas, you will be entitled to a one-off £50 payment. You don't have to be a British Gas customer to benefit from this initiative but to qualify the insulation must be installed by them, specifically through the council tax rebate offer.
If you own your home and are interested in the scheme please call British Gas using the details below. There are a number of options available to owner occupiers when having energy saving measures carried out in their homes. The Councils own Energy Advice Unit will give impartial advice on the full range of subsidised options available for the installation of cavity wall and loft insulation. They also give general advice on other ways to reduce the cost of fuel bills and can explain the benefits of taking advantage of the increasing range of renewable energy technologies.
Contact Information:
Organisation: British Gas
Phone: 0845 605 2535 (quote reference NLCT) (Lines are open 8am - 8pm Monday to Friday, 8am - 1pm Saturday)