Go back
to local info
Featured Local Information
A video about the new Tech Flat, which has a range of assistive technology available.
---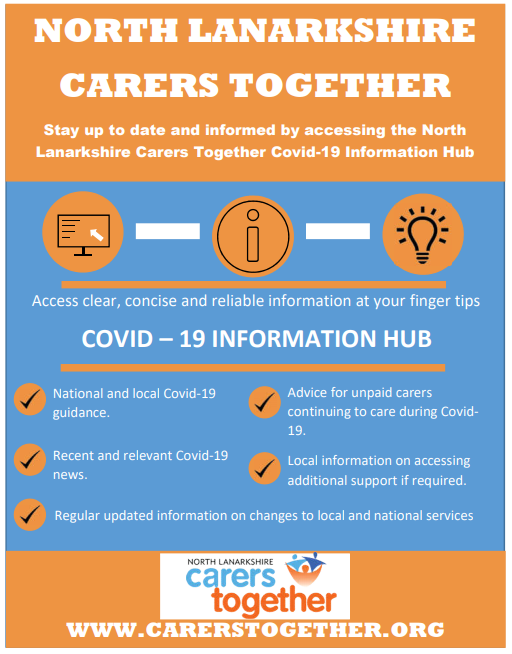 ---
Virtual & telephone support service, along with cancer packs service, available for people affected by cancer in Lanarkshire.
"We're still here for you"
Lanarkshire Macmillan information
---
Alzheimer Scotland
Alzheimer Scotland is Scotland's national dementia charity. Their aim is to make sure nobody faces dementia alone. They provide information and support to people who are worried about their memory and for everyone living with dementia and their families.
Alzheimer Scotland - What's Online? PDF
Alzheimer Scotland - Action on Rights PDF
---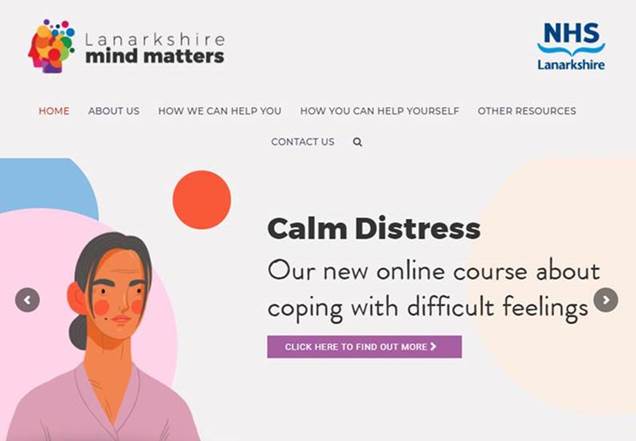 ---
Your guide to parks, green spaces and nature.
---
NHS Lanarkshire - "Practical Tips to help my memory" booklet
If you have a problem with your memory it can have an impact on your ability to do everyday tasks. If you follow helpful habits and routines this may minimise the impact of your memory impairment. This booklet is designed by Occupational Therapists to illustrate some practical strategies that you might find helpful.
Practical Tips to help my memory PDF
---
What do you want for tea? booklet
Quick and easy recipes to support you to eat well at home.
---
Food Train in Lanarkshire
Food Train makes hundreds of grocery deliveries every week, ensuring those most in need have access to fresh groceries.
A team of local volunteers help with household jobs, deliver books through their library service.
They also provide friendly social contact and meals through their Meal Makers and befriending services.
Sharing food and friendship with an older neighbour PDF
Food Train Connects leaflet PDF
---
Aura in North Lanarkshire
Aura is a new service, supporting people affected by domestic abuse across North Lanarkshire.
---
This section provides a range of local services and well-being information for you to find advice or seek further assistance to support your health.
---
Take our quiz to see if you are a carer
---
The NL Locator provides details on a variety of different activities such as fitness classes, arts and crafts, social groups, etc. You can view activities in your local area.
Personal Care - Local information
Showing 7 of 7 results
'Diabetes UK'
Diabetes UK Support Groups provide support and information to people with diabetes and their families.
Locally there is a group based in Wishaw (01698 748616) and a Lanarkshire Family Diabetes Support Group, visit the website here.
Help available from local pharmacies or chemists for organising your medication
If you have difficulty knowing which medicines to take at particular times, some pharmacies and chemists provide a free service which may be helpful to you.
The pharmacist will prepare your prescribed medicines in a secure and easy-to-use weekly pack (though you may be given several weeks supply at once). These packs have clearly marked day and dosage times and all the medicines you need to take at one time are together in an individual section, making taking the medication much easier.
You may want to also consider a product that will give you an audible alarm to remind you to take your medication.
North Lanarkshire Community Alarm and Telecare Services
If you need reassurance feeling safe around the home, you may want to consider a telecare and community alarm assessment, which can provide help when you need urgent assistance.

Please see this section of Making Life Easier for further help by following the link www.makinglifeeasier.org.uk/assess/areas-of-help.
Scottish Association for Mental Health
If you are feeling lonely and it is affecting your life, the Scottish Association for Mental Health offers online advice and information for those experiencing mild to moderate mental health problems.
For more information see the website at www.samh.org/
Well-informed Mental Health
Well-informed provides a relaxed and informal resource for people who are enquiring about mental health and/or well-being issues at a local level. The resource is for anyone living/working in the North Lanarkshire area and can be accessed via the freephone information line, face-to-face, e-mail, post, and at outreach stands in libraries, health centres and hospitals across North Lanarkshire.
The service enables people to make informed choices in their treatment and care by guiding them to resources that may be relevant to their enquiry as well as the factors influencing positive mental health and well-being.
Contact Information:
Organisation: Well-Informed
Address: 21 A721, Motherwell, ML1 1RT (Opening Hours: Mon-Fri 9am-5pm)
Website: www.elament.org.uk/finding-a-service/well-informed
Email: well-informed@samh.org.uk
Freephone: 0800 073 0918
NHS24 (Urgent out of hours assistance): 111
You can also find contacts for a range of different organisations on the 'Get Help Now' section of the Elament website, visit: Get Help Now
YAMS
The 'You are my sunshine' charity based in North Lanarkshire helps raise awareness of mental health through education and providing support to those experiencing or affected by mental ill health and suicide.
They provide a safe and welcoming environment where you can get advice on mental health and have access to free relaxation therapy and free counselling.
No appointments are necessary, please feel free to drop in for a chat and speak to their trained volunteers.
For more information, please visit the following website: https://www.yams.org.uk/