Go back
to local info
Featured Local Information
A video about the new Tech Flat, which has a range of assistive technology available.
---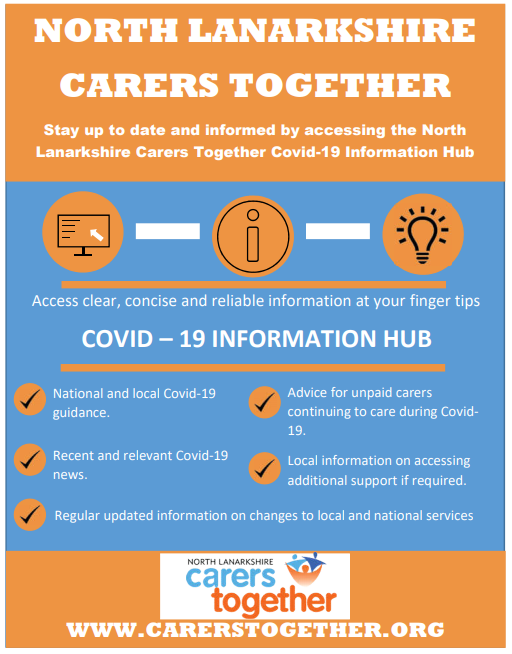 ---
Virtual & telephone support service, along with cancer packs service, available for people affected by cancer in Lanarkshire.
"We're still here for you"
Lanarkshire Macmillan information
---
Alzheimer Scotland
Alzheimer Scotland is Scotland's national dementia charity. Their aim is to make sure nobody faces dementia alone. They provide information and support to people who are worried about their memory and for everyone living with dementia and their families.
Alzheimer Scotland - What's Online? PDF
Alzheimer Scotland - Action on Rights PDF
---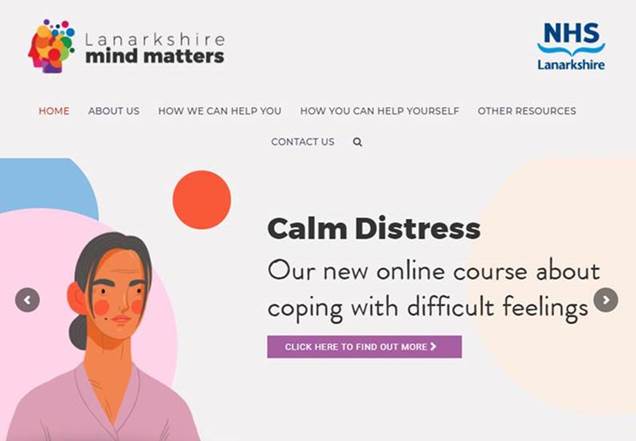 ---
Your guide to parks, green spaces and nature.
---
NHS Lanarkshire - "Practical Tips to help my memory" booklet
If you have a problem with your memory it can have an impact on your ability to do everyday tasks. If you follow helpful habits and routines this may minimise the impact of your memory impairment. This booklet is designed by Occupational Therapists to illustrate some practical strategies that you might find helpful.
Practical Tips to help my memory PDF
---
What do you want for tea? booklet
Quick and easy recipes to support you to eat well at home.
---
Food Train in Lanarkshire
Food Train makes hundreds of grocery deliveries every week, ensuring those most in need have access to fresh groceries.
A team of local volunteers help with household jobs, deliver books through their library service.
They also provide friendly social contact and meals through their Meal Makers and befriending services.
Sharing food and friendship with an older neighbour PDF
Food Train Connects leaflet PDF
---
Aura in North Lanarkshire
Aura is a new service, supporting people affected by domestic abuse across North Lanarkshire.
---
This section provides a range of local services and well-being information for you to find advice or seek further assistance to support your health.
---
Take our quiz to see if you are a carer
---
The NL Locator provides details on a variety of different activities such as fitness classes, arts and crafts, social groups, etc. You can view activities in your local area.
Mind - Local information
Showing 10 of 72 results
Active Health
NL Leisure's Active Health Programme, in partnership with NHS Lanarkshire, provides a range of supported programmes to help individuals realise the benefits of becoming more physically active and also assisting those who are recovering from minor or serious illness. The programmes are aimed at individuals who would benefit from a reduction in sedentary behaviour, increase in physical activity or who need more specific support in taking part in physical activity sessions due to a particular health issue. For more information please see the document attached.
---
Associated materials
Alcohol Counselling Team
You have answered that you drink alcohol every day, or that your family/friends are concerned about the amount you drink. Alcohol counselling team can help. Their aim is to limit the damaging effects of alcohol to the individual experiencing difficulty and to their families. This service is customised to individual needs offering both harm-reduction and abstinence based work.
Contact Information:
Phone: 01236 423900
Alzheimer Scotland
Alzheimer Scotland provides advice and support to people with dementia and their carers.
They provide the following services:
Information
Advice
Support
Carer education
Outreach support
Contact Information:
Organisation: Alzheimer Scotland
Address: 64 Dalziel Street, Motherwell, ML1 1PJ
Email: LanarkshireServices@alzscot.org
Phone: 01698 275300
Concerned about memory loss - These groups may help
Alzheimer's Scotland provides advice and support to people with dementia and their carers, they also provide carer education and outreach support.
Contact Information:
Organisation: Alzheimer's Scotland
Address: 64 Dalziel Street, Motherwell, ML1 1PJ
Website: www.alzscot.org/
Email: LanarkshireServices@alzscot.org
Phone: 01698 275300
Cooker safety valve
Please be aware that by fitting the following product it will mean the person has no means of cooking hot food.
SGN manages the network that distributes natural and green gas to 5.9 million homes and businesses across Scotland and the south of England. They also provide the gas emergency service in these areas. They understand that vulnerable customers, such as people with Alzheimer's or autism, need extra safeguarding in place. Statistics show that elderly and people in vulnerable situations are at a much greater risk from gas leaks and fires in their homes. The locking cooker valve helps vulnerable customers retain their independence at home and provides reassurance to family, friends and carers. The simple safety device is fitted to existing gas cooker pipework. When the valve is locked, the gas supply to the cooker is stopped. This eliminates the risk of the cooker being unintentionally turned on or left on, and gives peace of mind to the carer or relative that the cooker can't be used when they leave the house or the room. The carer or relative can easily turn the valve on using the key when the cooker is required, enabling the vulnerable person to continue to use their gas cooker safely.
SGN have so far fitted 187 locking cooker valves in homes across Scotland and the south of England. They work with community safeguarding groups including social services, occupational therapists and emergency services to identify customers who could benefit from the safety device. They've now partnered with the other UK gas distribution networks to offer this free service nationwide. They provide this free service regardless of your gas supplier. You don't need to change energy supplier or inform your supplier of the device.
For more information, please visit the website: https://www.sgn.co.uk/LCV/
Dementia Café North Lanarkshire
The living well with Dementia Café has now been up and running since August 2011 and regularly gets up to 50 people attending. It is aimed at those with dementia as well as those with memory concerns. It provides an informal and relaxed environment where people who have a diagnosis of dementia, as well as those worried about their memory, their carers, and informal care givers, can ask questions and get information and advice from health professionals about any memory issues they may have.
We want to reduce the stigma of a dementia diagnosis and give those with dementia – and other memory problems – their families, and informal carers, a place where they can gather, share their experiences and get some practical support in a friendly setting. Visitors will be able to pop into the cafe at their leisure and speak informally to a wide range of professionals and discuss all aspects of memory problems and get signposted to relevant services.
The cafe is open from 1pm to 4pm in Motherwell Football Club's Centenary Suite on the first Friday of every month.
Contact Information:
Organisation: Dementia Cafe
Address: Centenary Suite, Motherwell Football Club, Fir Park Stadium, Firpark Street, Motherwell, North Lanarkshire, Scotland, United Kingdom, ML1 2QN
Email: DementiaCafe.Motherwell@lanarkshire.scot.nhs.uk
Phone: 01698 269649
'Dementia Research Group'
The Dementia Research Group is one of the UK's centres for clinical research into dementia. It is based at the National Hospital for Neurology and Neurosurgery, which is the lead centre for trialling new drugs to slow the progression of Alzheimer's disease (which causes the majority of dementia).
For further information, please visit their website by following the link: www.ucl.ac.uk/drc/.
Disabled Persons Railcard
A disabled persons railcard can get 1/3 off adult rail fares for travel on the National Rail network in Great Britain.
If you're travelling with another adult they will also get 1/3 off their rail fare, so you can save money for a friend or family member too!
There are no time restrictions on the Disabled Persons Railcard, so you can use it to get a discount on tickets at any time of the day.
For more information visit: www.disabledpersons-railcard.co.uk/
Financial support available for carers
You may be entitled to carers allowance if you currently care for a person who receives attendance allowance (various rates) or disabled living allowance. This person does not need to live with/be related to you.
This weekly allowance is a taxable benefit. Claim forms are available through your local Job Centre Plus (0845 604 3719) and Pension Services (0845 606 0265), or contact your local Social Work office for an appointment with a Welfare Rights Officer.
Groups that support and advise carers
North Lanarkshire Carers Together is an organisation that represents carers interests, and works to improve the quality of their lives. Membership is available to anyone in North Lanarkshire who is a carer in any capacity.
The group is based in Motherwell and if you'd like to get in contact, please phone 01698 404055 for further information.
The Parkinsons Self Help Group (PSHG) provides people with Parkinson's, as well as their carer's and families, with information and advice on all aspects of living with their condition to improve their quality of life. They do this through friendship, encouragement and social activities.
For more information, please phone on 01236 766350 or visit their website by following the link: www.parkinsonselfhelp.org.uk/.
Dementia Café is a free café where you can meet people and access information and support. For more information, please contact Alzheimer Scotland by using the following details.
Contact information
Email: lanarkshireservices@alzscot.org
Phone: 01698 275300