Go back
to local info
Featured Local Information
A video about the new Tech Flat, which has a range of assistive technology available.
---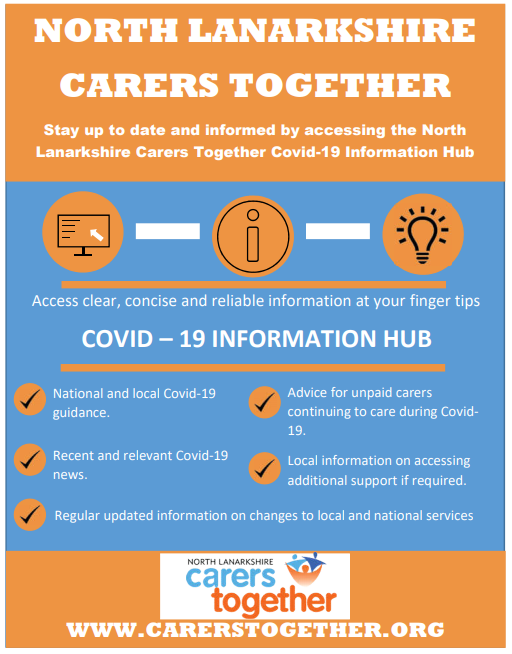 ---
Virtual & telephone support service, along with cancer packs service, available for people affected by cancer in Lanarkshire.
"We're still here for you"
Lanarkshire Macmillan information
---
Alzheimer Scotland
Alzheimer Scotland is Scotland's national dementia charity. Their aim is to make sure nobody faces dementia alone. They provide information and support to people who are worried about their memory and for everyone living with dementia and their families.
Alzheimer Scotland - What's Online? PDF
Alzheimer Scotland - Action on Rights PDF
---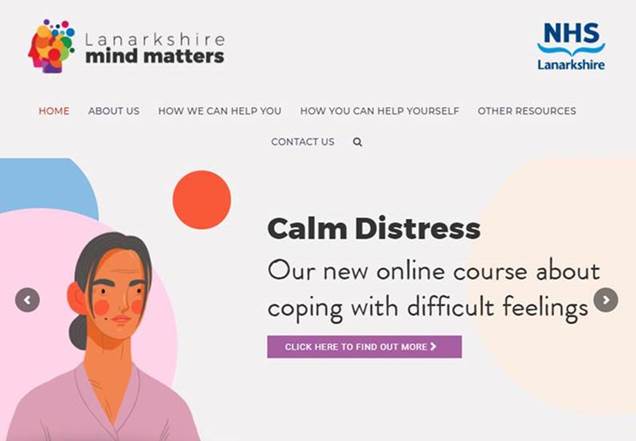 ---
Your guide to parks, green spaces and nature.
---
NHS Lanarkshire - "Practical Tips to help my memory" booklet
If you have a problem with your memory it can have an impact on your ability to do everyday tasks. If you follow helpful habits and routines this may minimise the impact of your memory impairment. This booklet is designed by Occupational Therapists to illustrate some practical strategies that you might find helpful.
Practical Tips to help my memory PDF
---
What do you want for tea? booklet
Quick and easy recipes to support you to eat well at home.
---
Food Train in Lanarkshire
Food Train makes hundreds of grocery deliveries every week, ensuring those most in need have access to fresh groceries.
A team of local volunteers help with household jobs, deliver books through their library service.
They also provide friendly social contact and meals through their Meal Makers and befriending services.
Sharing food and friendship with an older neighbour PDF
Food Train Connects leaflet PDF
---
Aura in North Lanarkshire
Aura is a new service, supporting people affected by domestic abuse across North Lanarkshire.
---
This section provides a range of local services and well-being information for you to find advice or seek further assistance to support your health.
---
Take our quiz to see if you are a carer
---
The NL Locator provides details on a variety of different activities such as fitness classes, arts and crafts, social groups, etc. You can view activities in your local area.
Safety - Local information
Showing 9 of 9 results
Contacting Environmental Health about noisy neighbours
From your answers you have indicated that noise from your neighbours is regularly disturbing your sleep. The environmental health department of your local authority may be able to offer you some advice.
North Lanarkshire Community Alarm and Telecare Services
If you need reassurance feeling safe around the home, you may want to consider a telecare and community alarm assessment, which can provide help when you need urgent assistance.

Please see this section of Making Life Easier for further help by following the link www.makinglifeeasier.org.uk/assess/areas-of-help.
Preventing falls
NHS Inform provides online information on ways you can prevent falls. The site includes information on causes of falls, how to deal with anxiety about falling, strength and balance exercises and much more.
For more information please visit www.nhsinform.scot/healthy-living/preventing-falls.
Upwards and Onwards - What to do if you fall
The Upwards and Onwards film can be found on NHS Inform and explains several things to do with falling.
For example:
How to get up from a fall.
What to do if you can't get up.
How to prevent falls.
You can either watch the whole film or a specific section.
Visit www.nhsinform.scot and search for 'What to do if you fall' to find the videos.
There is also a leaflet attached which describes how you can help someone if they fall.
---
Associated materials
Reporting a bogus caller to Trading Standards
Your answers have indicated that you have regretted letting someone into your home, e.g. someone claiming to be from a utility company or a pushy sales person.
If you have not already done so, you may wish to report this person to Trading Standards on 01236 856361 or email TradingStandards@northlan.gov.uk. In order to investigate this, they will need as much specific information as possible.
Fire Safety in the Home - Self Assessment
A new online fire safety quiz has been launched by the Scottish Fire and Rescue Service to support people to stay safe at home – and potentially save lives.
The 'Fire Safety in the Home - Self Assessment' survey asks a series of simple questions and then automatically generates a home fire safety report.
To complete a self assessment please visit the following website: www.firescotland.gov.uk/your-safety/online-hfsv-checker.aspx
Quit Your Way - Free NHS Stop Smoking Service
If you wish to stop smoking then 'Quit Your Way' can help with this. 'Quit Your Way' is a free NHS service available in North Lanarkshire.
For more information, or to find your local service, please see the attached documents, or use the contact details below.
Please note: the helpline is open 7 days a week Monday to Friday, 8.00am to 10.00pm, and Saturday and Sunday, 9.00am to 5.00pm. There is also a web chat service available on the web page that is available during the same times and dates specified above.
Contact Information:
Organisation: 'Quit Your Way'
Website: www.nhsinform.scot/care-support-and-rights/nhs-services/helplines/quit-your-way-scotland
Phone: 0800 848484
---
Associated materials
Scottish Fire and Rescue Service - Make the Call
The Scottish Fire and Rescue Service's new campaign is aimed at preventing further deaths in homes across Scotland.
The call to action is aimed at carers, family, friends and neighbours of people that may be at greatest risk of fire and they are encouraged to Make the Call - help save a life by putting those at risk in touch with the Scottish Fire and Rescue Service for a free Home Fire Safety Visit or advice from their local station.
For more information, please visit one of the following links:
We would advise that you arrange a Fire Safety Check
You may benefit from having a fire safety check if you have not had one recently. Strathclyde Fire and Rescue carry out free home fire safety visits and fit smoke alarms free of charge if required.
This can be arranged through Fire Scotland by calling their community safety free phone helpline on 0800 0731 999 or texting Check to 61611. Alternatively, visit their website by following the link www.firescotland.gov.uk/your-safety.
If hearing is a problem for you, there are alternative alarms that may work for you and can be fitted free of charge. If you'd like to find out more, contact a rehabilitation mobility officer via your local social work offices.